At Enfield Chiropractic, we take great pride in providing the finest care to each and every patient. We have included information below about the different chiropractic services offered in our Enfield chiropractic office, but please call us at (860) 265-7901 if you have any questions!
______________________________________________________________________________________

Connecticut Chiropractic
We provide advanced spinal correction and chiropractic adjustments utilizing "state of the art" chiropractic techniques. Never in the history of chiropractic care have chiropractors been able to provide the level of help and expertise that is available today. Many of the newest chiropractic techniques are actually safer, more comfortable and more effective than ever before. As a chiropractor who cares about utilizing the most advanced chiropractic techniques, Dr. Robert Langone has years of training, expertise and experience in helping patients get pain relief for back pain, neck pain, headaches, and other related conditions originating from the spine. Chiropractic care under a trained professional can even be used to prevent injuries and help you achieve total health or wellness.
---

Laser Therapy
Low-level lasers are different from the more publicized heat lasers, which are used in many surgical procedures to cut and cauterize tissue. There has yet to be even one recorded side effect in the 25 years low-level lasers have been used. Studies have been done proving the low-level laser's effectiveness in many cases. The Erchonia laser, which is used in therapy at the Enfield Chiropractic, Enfield, CT, has actually made history as being the first low-level laser in the world to gain FDA market clearance for the treatment of pain.
---

Massage Therapy
Massage therapy does more than make you feel good, it can actually help your body achieve balance and recover from injury faster. Massage therapy offers a natural treatment approach which relieves pain and works hand in hand with spinal alignment and disc problems and joint pain. We partner with several massage therapists so if you need specialized work we will diagnose the specific type of massage that would best serve your needs and goals and refer you appropriately for co-management.
-------------------------------------------------------------------------------------------------------------------------------------------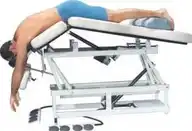 Spinal Decompression
Spinal Decompression Therapy is an effective treatment for several conditions. It is very affordable, compared to surgery and Enfield Chiropractic patients have shown great success with the therapy.
Call to have a consult with Dr. Langone on this service.
-------------------------------------------------------------------------------------------------------------------------------------------
Nutrition
There are foods that increase inflammation and pain and generally slow recovery. For those patients who are interested in self-managing their body chemistry and diet, we offer supplement recommendations and customized diets to speed recovery, reduce pain, improve mental acuity (AKA reduced brain fog) and generally increased energy. When you come in ask Dr. Langone for more details.
Get in touch and make an appointment today!